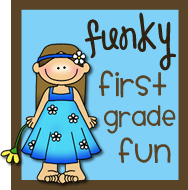 Funky First Grade Fun is having a linky party and this is one I can really get in to! The hard part was narrowing down the list of books I LOVE to use during writer's workshop. So, here a few of my favorites:
Owl Moon
for SO many lessons! It is perfect for teaching about a small moment. It's also great for adding details or describing words. Plus, I use it for Reader's Workshop - especially for visualizing. It's great for including all the senses.
The Best Story
is one of the first books I read each year in Writer's Workshop. It's great for teaching where writer's get their ideas. In the end, the main character learns that the best story comes from your heart. After reading it, I give each student a paper heart and they fill it with words/pictures of the things/people they love.
I Wanna Iguana
is a great book for teaching letter writing or persuasive writing.
The Important Book
during my poetry unit. It's great for teaching that you can write about anything and for adjectives.
These are only a few of the great books I love for teaching Writer's Workshop. I can't wait to see what other people post.